Directing growth away from sprawl patterns of development and toward existing and new compact, mixed-use centers in priority transit corridors, will build growth capacity, increase property value and reduce the growth in traffic congestion.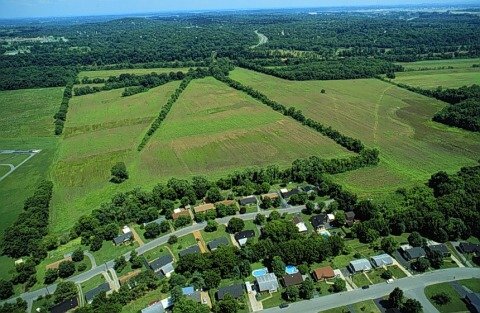 Background/Issues
Over a recent 20-year period in central New Jersey, the increase in houses, job and shopping opportunities, traffic, higher taxes, and the decrease in open space and farmland have dramatically changed our region. In fact, developed land in central New Jersey grew by 61%* during that period. During that same time, the region's population grew only 21%. As the statistics indicate, New Jersey is not growing so much as the population is redistributing itself on the landscape – primarily in lower densities in formerly rural areas away from existing cities and downtowns. Most new development is accessible only by car, resulting in increased traffic congestion. Growing communities struggle to afford new infrastructure while shrinking urban and downtown populations struggle to keep up their schools and other services. There is an increase in racial and economic segregation.
If this trend continues, the region's projected population will consume all available land before 2020, and the State will achieve build-out on greenfields within an estimated 50 years. No one wants that future. For developers, there will be reduced growth capacity. For environmentalists, there will be too much pollution and loss of natural resources. For employers, it will be difficult to attract or retain employees. For residents, it will seem impossible get around. After a period when property values have rapidly increased, congestion and other factors will force them to spiral down.
State Plan
In early 2011, the Office for Planning Advocacy initiated a State Strategic Planning Process. The goal of the project was "to understand the opportunities for responsible growth and redevelopment in New Jersey and create a strategic implementation plan that capitalizes on these opportunities by better coordination of capital improvement investments and regulatory regimes of state agencies." PlanSmart NJ had the opportunity to participate in the stakeholder process and advocate for a State Plan that is balanced, equitable, regional and addresses the many challenges facing the state. To read more about the process and the released report, click here.
PlanSmart NJ Position
How can we change these trends? Growth must be redirected away from green fields and into places where there is development already. We must make more compact, mixed-use communities, save open space and add growth capacity. This is what has become known as Smart Growth.
These goals are achievable, as experience in Portland, Oregon, shows. Over the same 20-year period studied in central New Jersey, Portland grew 50%, (more than double our 21%), but converted only 2% of their land for development, (as opposed to our 61% conversion rate). Portland has strong regional planning and an enforceable growth boundary. They have a track record of promoting biking and walking and directing investments away from more highways and into light rail and buses.
Smart Growth is about more than the location of new development. It is about developing in such a way as to optimize a range of goals rather than maximize any one. These goals include:
Reducing land, energy and resource consumption
Enhancing environmental quality
Reducing auto-dependency
Increasing housing and transportation options
Promoting sustainable economic growth
Balancing jobs and housing
Revitalizing cities and downtowns
Providing infrastructure efficiently
Distributing the costs and benefits of growth equitably
Targets must be associated with these goals. Without targets, we cannot know whether growth is "Smart" or merely "Less Dumb." PlanSmart NJ has designed a regional planning process for setting targets, called Goals/Facts/Choices/Outcomes: setting goals, reviewing facts on build-out and capacities, choosing targets and strategies to meet these targets, and testing whether or not the strategies will achieve the targets. The result is a Regional Action Plan (RAP) that is implemented by all parties who have signed the RAP (state, county, local, public agencies, private sectors) and monitored and enforced by the State or the County.
Projects
PlanSmart NJ has developed a state-of-the-art computer model to demonstrate the impacts of zoning to non-planners. Goal Oriented Zoning (GOZ®) estimated the impact of build-out of zoning on natural resources, traffic, water quality, and the costs of local facilities. GOZ® demonstrated the advantages of changing plans to produce more compact, mixed-use development that will support new transportation options and offer choices for a changing population. We are using the GOZ® framework and philosophy in advocacy and planning projects around the state.
PlanSmart NJ emphasizes the need to bridge the gap between statewide planning, programs and investment strategies and local land use decisions. We have been applying this approach in Mercer and Somerset Counties. This approach is based on setting targets in three regional systems – the economy, transportation, and the environment. These targets, which are based on the State Development and Redevelopment Plan goals and policies, then become the basis for evaluating whether local plans are consistent with these goals. .
PlanSmart NJ is also developing tools, using Geographic Information Systems (GIS), for evaluating the plans and regulations of various governmental agencies for consistency and the ability to produce the desired results.
Achievements
Since founded in 1968, PlanSmart NJ's achievements in land use have included:
Moving municipalities from "home rule" thinking to being more receptive to a regional approach to local problems
Successfully advocating for public investments in the right locations, including $125 million in Route 1 improvements, official studies to support Bus Rapid Transit (BRT) service, etc. and against investments in rural and environmentally sensitive areas, such as the Sourland Mountain route for I-95 and the extension of sewer service areas in the Hopewell Valley
Advocating for the Farmland Preservation Act, Fair Housing Act, State Planning Act, Highway Access Management Act and Transportation Development District Act, etc.
Developing the concept for center-based development to counter sprawl, which became the key strategy of the State Development and Redevelopment Plan
Participating actively in the State Planning process
Please click here to see past projects in our Archives.