Browsing articles by " PlanSmart NJ"
A broader planning framework recognizes that rules are about saying 'yes," as well as 'no' 
By Lucy Vandenberg, February 2, 2012 in Opinion, NJ Spotlight
Amid much controversy, Gov. Chris Christie earlier this month signed a law providing an extension to counties to submit updated water quality management plans. These plans are important because they delineate where sewers will be permitted and, consequently, play a large part in where, and at what density, New Jersey will grow into the future.
Under the new law, county extensions are automatically granted for six months, with up to two years leeway at the approval of the DEP commissioner. In the meantime, counties will continue to operate under outdated sewer service maps. Read more >>
The North Jersey Sustainable Communities Consortium today was awarded a $5 million U.S. Department of Housing and Urban Development (HUD) Sustainable Communities Regional Planning Grant award. PlanSmart NJ is a partner in the North Jersey Sustainable Communities Consortium, a project administered by the Edward J. Bloustein School of Planning and Public Policy at Rutgers, The State University of New Jersey.
PlanSmart NJ will play a key role in providing expertise related to housing and community development, state and regional planning, redevelopment, land preservation, and consensus-building. PlanSmartNJ is committed to engaging the public and stakeholders in the region to increase participation in the planning and visioning process.
"This project will bring together leaders and visionaries in the state to work toward comprehensive solutions for regional land use planning. PlanSmart NJ looks forward to working with the Consortium to develop a truly equitable and sustainable plan that will serve as a beacon for our northern New Jersey communities." said Raymond Ferrara, Ph.D., Chairman of the Board of Directors, PlanSmart NJ. "It is clear that the status quo is no longer sustainable in NJ.  This grant will provide an impetus to jumpstart our economy, invest in our infrastructure, and align our local planning efforts for a better future for allNew Jersey residents." Read more >>
The State of New Jersey Office for Planning Advocacy (OPA) recently unveiled Governor Christie's vision for a new State Strategic Job Growth Plan.  The draft Plan completely revamps a State Plan that was last adopted a decade ago.  New Jersey's landscape has changed a lot since then:   243,000 housing units have been added, New Jersey's population has grown by 377,000, and over 30% of New Jersey's 5 million acres have become suburbanized.  Meanwhile, our cities continue to lose population.
The last State Plan disappointed almost everyone – planners, developers, municipalities, and environmentalists.  It contained much in the way of aspirational language but had limited impact – only 17 of New Jersey's 566 municipalities achieved consistency with the State Plan, known as "plan endorsement".  Incentives were few and state agencies, for the most part, didn't change the way they did business to support State Plan implementation.
The new Plan has the potential to change all that.  It sets forth four goals: targeted economic growth, effective planning for vibrant regions, preservation and enhancement of critical state resources, and tactical alignment of government.  It proposes "guiding principles for State decision-making":  predictability, spatial efficiency, leveraging assets, sustainability, and institutionalizing change. Read more >>
Last month, the West Windsor Township Council voted at long last to approve the proposed transit village at Princeton Junction, ending years of litigation and setting the stage for this smart growth redevelopment project to move forward.
It is a model that other communities along the Route One corridor should take a hard look at and one that PlanSmart NJ and other smart growth advocates have long been promoting.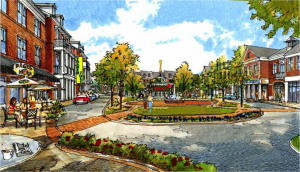 This mixed-use retail and residential transit village development will include 800 units of market-rate and affordable housing, 100,000 square feet of retail space, a parking deck, and a public gathering space near the Princeton Junction train station. It will create a true downtown for West Windsor residents and serve as a shopping and dining destination for those from surrounding municipalities. It will generate new demand for passenger rail service along the Northeast Corridor and make it possible for people to get out of their cars and walk, bike, and take the train to their destinations.
What would West Windsor's future have looked like without the new transit center? Read more >>
On August 19th, the Port Authority of New York and New Jersey Board of Commissioners approved a two-part plan to restore fiscal health to the agency by increasing toll and fare rates. A scaled down version of the original plan will raise $25.1 billion, generate more than 131,000 jobs and will focus attention to safety, security and state-of-good-repair projects, including completion of the World Trade Center, while phasing in other less immediate projects over more than 10 years. Read more >>