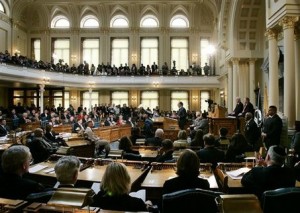 PlanSmart NJ advocates for better land use planning, more effective legislation and regulations, and more efficient and targeted infrastructure investments to revitalize the landscape and improve New Jersey residents' daily lives.  We conduct public policy advocacy on issues such as the State Plan, economic development strategies, redevelopment policies, environmental regulations, farmland preservation, and transportation policies, among other areas.  We build coalitions with other non‐profit organizations with allied missions and with private sector partners.
State Plan, to read about the NJ State Plan and current status, please click here.
Achievements
Participated in Common Ground, a coalition of environmental and planning organizations advocating for effective implementation of State Planning concepts.
Advocated for an updated State Development and Redevelopment Plan and State Planning Act consistent with our new land use planning framework and for the State Planning Commission to resolve differences among state agencies to advance all goals.
ƒPlanSmart NJ's participation in the Smart Growth Economic Development Coalition led to the passage of the Smart Growth Economic Development Stimulus Act of 2008.  The Act created new financing mechanisms for redevelopment in targeted smart growth locations.
ƒPlanSmart NJ was the first to tell DEP to throw out the Wastewater Management Rules and start over to better protect the environment and promote economic development in growth areas. DEP has met with us to discuss how to revise the rules.
PlanSmart NJ convened a regulatory roundtable of land use experts who made recommendations to NJDEP's Permit Efficiency Task Force. A final report from PlanSmart NJ's group of experts was produced and integrated into the resulting DEP Task Force Report.